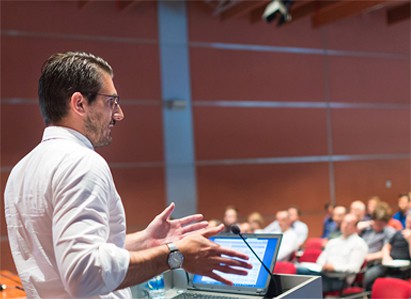 Things I Learned During My Tenure at NASSCOM 10,000 Startups
"Things I Learned During My Tenure at NASSCOM 10,000 Startups" – Nikhil Jois, Eventosaur
Back in 2006, when I first met one of my co-founders, if you'd told me that in a decade or so – we'd be sitting next to each other in a 40,000 square-foot space working on our startup I'd have laughed in your face.
As Eventosaur's time at the NASSCOM 10,000 Startups Warehouse draws to a close, I thought it would be fitting to write about my experiences and how it was to be a part of the NASSCOM 10,000 Startups Program.
Atmosphere
Anyone who has ever entered the NASSCOM 10,000 Startups Warehouse in Bangalore or any other city will tell you that they can literally sense the passion in the atmosphere from a mile away. The energy and dedication of the place and its inhabitants is infectious to say the least. The bright colours, the endless caffeine supply, the comfortable seating and beanbags add to the beautiful open floor design and make it conducive for peak productivity.
People and friendships
Starting up can be a lonely journey and most founders fight an uphill battle where they end up straining relationships with family and friends to convince them that starting up is the right call. An early stage founder's answer to the usual "How are you doing?" is almost never honest because we know that the outside world can never understand what we are going through. Startup founders are either thrilled to bits or in an abyss of darkness. Very rarely is there an in-between mode. However, we smile and tell the outside world that all is well and that the startup is growing like a baby. Being surrounded by people with whom you can be brutally honest without fearing judgement is an underestimated perk.
Mentors and connects
Be it Dr Som Dutta, Ravi Gururaj, Naganand Doreswamy, or Ashok Madarvally just to name a few – we have been privileged to have access to mentors who have tasted success and are willing to share their best tips and tricks. The encouragement and guidance we receive from mentors helps us save time and other resources that we would have spent unnecessarily. Mentors also serve as reminders that there is light at the end of the tunnel.
Startup kit
The startup kit put together by the talented partnerships team at NASSCOM 10,000 Startups is a treasure trove of offers and freebies. The freebies range from cloud credits to fintech and ERP software. You can check out the current Startup Kit here. Some of the services and products on that list would have been ill-affording or hard to come by on our own.
Email group
The 10,000 startups program has an exclusive internal email list which is the best way to ask for help. Bonus: You can read my guide to asking for help here.
Founders talk to each other about hiring needs, vendor requirements, funding updates, and several other topics. It is one of the most helpful email groups that I am a part of.
Speaking of emails, I send out a personal email on a weekly basis that may interest those of you who like marketing, leadership, sales, productivity, and such topics. If you're interested, you can sign up here.
Hiring and interns
The aforementioned email group has been immensely helpful to several founders in the hiring department. Apart from that, the kind folks at NASSCOM 10,000 Startups themselves have a handy network of candidates who are looking to work with startups ready at all times. All we have to do is share our requirements and a short list of eligible candidates is made available almost instantly.
In case you're reading this and wondering how you can land a job or internship at a startup, you can read my in-depth guide on the topic of getting hired here.
Events/workshops
The NASSCOM 10,000 Startups ecosystem opens up doors like no other. The number of events we've gotten access to via the NASSCOM 10,000 Startups program is considerably large.
Here's a short list of some of the more prominent ones. The links lead to in-depth articles along with our learnings from these events.
Google Design Sprint
SAP Startup Social
TiE Bangalore Masterclass on funding
Design4India Design storm workshop
Apart from this, Eventosaur also got access to 3 Startup pitch competitions: Two editions of Bengaluru ITE Biz and the American Kannada Koota Association's business pitch competition held in the United States of America.
Eventosaur was fortunate enough to bag prizes at all three events. None of these would have been possible if we weren't a part of the NASSCOM 10,000 Startups ecosystem.
Sponsors
The NASSCOM 10,000 Startups program boasts of some of the best sponsors anyone in Tech can think of. We have folks from Amazon Web Services who help us with our technical queries. The Facebook team helps us setup our first ad. The Google team is always happy to share design and ad-related queries. The Microsoft team gives us access to Azure and so much more. That's just the tip of the iceberg.
Government connect
Most importantly, the access to the Karnataka ITBT team, the startup cell and the honourable minister for ITBT has helped us immensely. How else can we imagine the minister tweeting out a link to a startup's blog post?
The Startup cell team even visited the NASSCOM 10,000 startups warehouse multiple times and took feedback from the founders regarding their schemes and rules.
I think it'd be fair to say that my startup journey would not have been this enjoyable and (relatively) smooth if not for the NASSCOM 10,000 startups program. I highly encourage early stage startups to consider signing up for the program. Come become a part of the family.
About the Author
Nikhil is one of the founders of Eventosaur. In his spare time, he reads books, listens to podcasts, and writes blog posts. In a past life, he worked as an academic content editor for B-schools in the US, UK, and Canada. He was also an employability coach at several colleges across Karnataka.